Friday, February 17, 2012 at 12:30AM
Last week my new roommate/cousin/head crew chief - Hayden - moved in with me. He'll be living with me for the next year and a half or so, and I can't tell you how excited I am for him to be up here all the way from Tennessee. You'll see him with me from time to time, maybe even occasionally at the track. He'll be attending UTI here in Chicago, so I'm sure his skills and knowledge(not to mention his hookups on super nice tools) will come in handy. Welcome to the Hood lil' cuz! Thanks to him, I now have the newer OE calipers ready to install on the car along with new DMP brake lines from DeftMotion.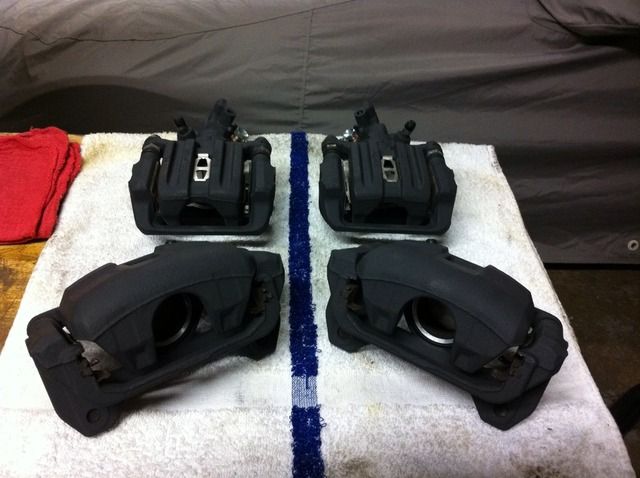 I also registered for an event at Road Atlanta March 9-11 in order to get some seat time before May's Global Time Attack (GTA) event there. I'm searching for a best of 1:42.xxx this first trip down, with an ultimate goal of 1.39.xxx at the GTA event.
My work schedule surrounding the March event is pretty hectic...it involves me getting back to Chicago from a three day stint in Charlotte, NC on Wednesday night the 7th, then hopping in the truck to head down to Atlanta. I'll be running the car all weekend, then hopping back in the truck to start heading back to Chicago Sunday evening, dropping the car off, and making it to Cedar Rapids, IA. Luckily, I'll have the company of my beautiful girlfriend, Jessica to keep me awake on the ride back to Chicago.
I can't wait for this event. I'm still contemplating a front splitter and canards as they are allowed by the GTA rules for Street RWD. Drew over at DeftMotion is also working on some partnerships with a few companies for the upcoming 2012 season. Be on the lookout for updates!
In other news...to all my midwest track friends, my awesome neighbor Paul and I started a forum about a month ago for all of you afflicted with the same addiction we do - tracking. If you haven't registered yet, please do. We'd love to have you over at TrackMidwest. Here's my little schpiel about the site and why we created it:
Hi All,

My friend Paul and I have just started a new website dedicated to Track, AutoX, Drag and Drift events in the MidWest area. I've been wanting to do something like this since I moved up here. For me, the creation of this site is a special moment. You see - I moved here from Houston in July of 2011. I knew barely anyone. Those I did know before moving up were other s2000 owners (mainly thanks go Garrison's awesome job as a CO). Garrison - big thanks to you. Without you or the s2000 community here in the UMW, I would be lost. And I mean that.

In addition to my s2000 friends, I found a whole community of enthusiasts at the local autox and track events that befriended me immediately - they became my core group of friends and still remain so. Heck, member Allen here (whom i met at an s2000 forum dinner) invited me to a test and tune at Gingerman while I was in town for work before i even moved up here. It was at that same event that I met TomV. The two of them were some of my first friends here, and thankfully neither has become tired of me in the few months I've known them.

This site is my way to give back to the community - the one that greeted me with open arms and made me confident that I made the right decision moving to Chicago.

When I lived in Houston, we had a similar local forum that helped me tremendously. It is my hope that others can find the same friendships and knowledge with the help of this site. Track people are some of the nicest folks I know, and from what I've seen, I'm not the only one who thinks so.

If you'd like to check the site out, please do so. Let me know what you think. I'm open to suggestions. I'd also like to shout out to Brian Barrera for creating our current logo (Love you bro, no homo).

Thank you all for your support. You have all made me feel more at home in Chicago than I ever thought possible, especially in the short amount of time that I have lived here. For that I thank you all sincerely. It just wouldn't be the same without you.
That about does it for me. I'm frantically managing my work/travel schedule with prepping the car, and so far it's working out quite well. I've got a few other projects up my sleeve, though not too many with the car. Anyone that knows me knows that I always have my hands in a couple different things at once. Luckily, with everything besides work, I can take them all at my own pace. Thanks for reading this far. We'll see you guys around.
tagged
GTA,
Global Time Attack,
Road Atlanta,
TrackMidwest