Tuesday, September 29, 2009 at 12:39AM
I love Apple Computers and the Mac OS X. I've been a mac user for close to 3.5 years now and wouldn't have it any other way. For photographers, I feel like there are a lot of small benefits to using a mac. I find them day in and day out. For you mac users out there, I found a neat little plugin for Finder's Quick Look.
If you don't know, with Mac OS X 10.5 (Leopard) and up, when in finder, you can highlight a file and hit the space bar and be able to preview the file. This is handy for PDFs, Word documents, spread sheets, etc. I also like it a lot for browsing through my photos quickly. Sometimes, I wish I had quick access to the EXIF data in my files, without having to open up any programs. Well, now I can.
I found SneakPeak Photo 1.0 while browsing the downloads section at apple.com. What is allows you to do is view your EXIF data, histograms, copyright data, etc - pretty much everything embedded in the digital image - all within Finder's Quick Look. How neat is that? Below are a few screen shots:
This is the basic screen that pops up when you his the space bar for quick view: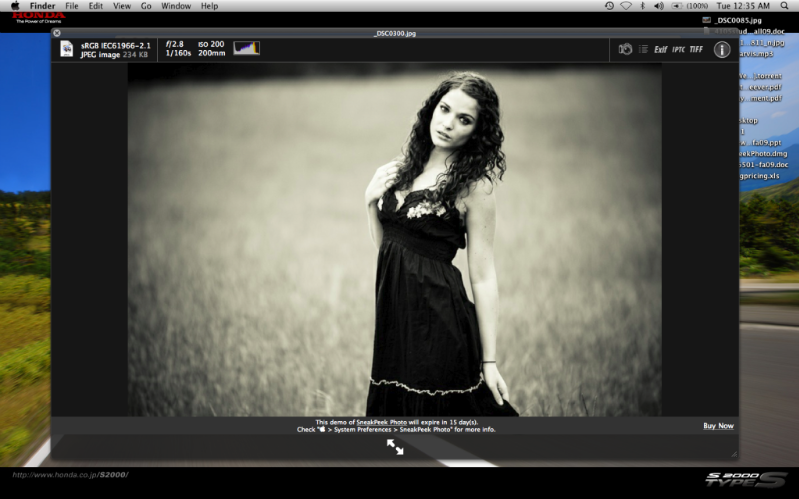 You can see the basic EXIF data up top - shutter speed, aperture, ISO, and focal length. You can also see a mini histogram up top.
If you click the icons at top right, you get different information:
A larger histogram, Camera Model, Metering Mode, etc.
Typical EXIF Data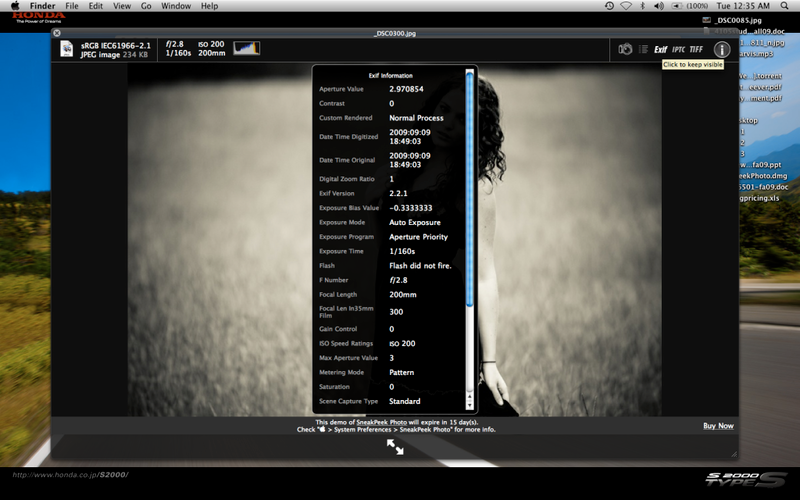 Copyright information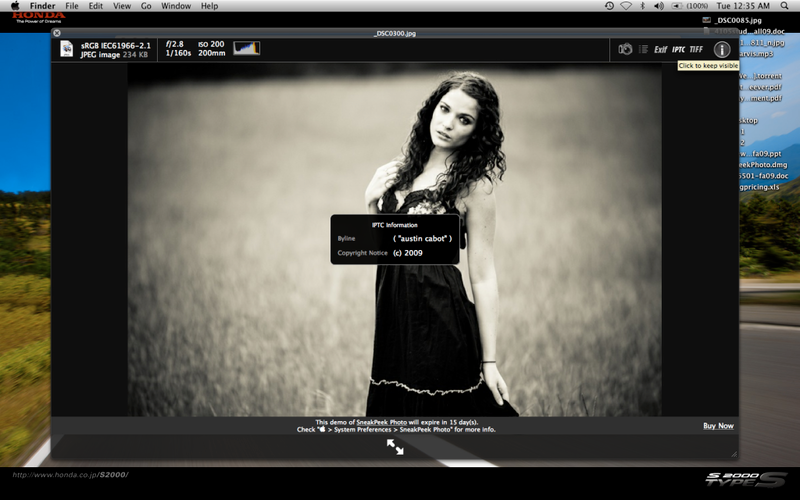 You may notice that some of the information (resolution, lens, etc) is missing from the image. I haven't checked yet, but I am pretty sure this due to the fact that this image of Ciara was exported with Adobe Photoshop Lightroom 2.0 and some of the info may have not been exported with the image. With files straight from the camera, whether RAW or JPG, the lens information shows up:
All in all, I like the plugin a lot. Considering the Demo that I got off the Apple website is free for 15 days, I'll give it a try and see how much I use it. Afterwards, if I find I am using it a lot (the way I think I will), it's only $9.95 to purchase through the Code Line Communications website.